Articulated isodiametric tractors
Mizar 70 AR
63 hp professional isodiametric tractor. High-range technological content and performance, narrow wheel track and wide steering angles.
Mizar 70 AR is a reversible isodiametric tractor characterised by the compact dimensions, typical of medium-power tractors, but with high-range technological content and set-up.
A completely re-designed driver's seat ensures maximum comfort and total operator protection thanks to the new "Vista Pro" cab (opt.), pressurised and homologated category 4.
Driving position
reversible
AR | Articulated
The OS-Frame and the power steering acting on the central joint of the tractor ensure agility between the rows and reduced turning radii.
The Mizar 70 range is also available in the RS or Dualsteer® versions.
Technical Data
| | |
| --- | --- |
| | Kohler KDI 2504 TCR – Stage V |
| Power (kW/HP) | 46 / 63 |
| Nominal speed (rpm) | 2600 |
| Number of cylinders | 4 in-line / 16 valves |
| Displacement (cm3) | 2482 |
| Aspiration | Turbo / Intercooler |
| Maximum torque (Nm/rpm) | 205 / 1500 |
| | |
| --- | --- |
| Type | Isodiametric with driving position with platform suspended on silent block |
| Chassis | Articulated |
| Driving position | Reversible |
| Transmission | 12 + 12 with Easy Plus™ clutch and Smart Brake & Go |
| Synchronized reverser | Yes with Power Clutch System button |
| Drive | Permanent 4WD |
| Hydraulic system | Dual circuit with independent pumps |
| Heat exchanger | Yes |
| Joystick | Optional. Proportional electronic control of rear lift and control valves, potentiometer for adjusting the hydraulic flow rate, remote control for PTO engagement and storage armrest |
| Rear lifting capacity (kg) | 1900 (at the ball joint) |
| Front lift | n/a |
| PTO rotation speed (rpm) | 540 / 540E |
| PTO engagement control | Electro-hydraulic |
| Service brakes | Multidisc in oil bath with hydrostatic control, acting on the rear wheels |
| Cabin | Optional. 4-upright conical structure. Available versions: 'Vista' with ventilation and heating system or 'Vista Pro' with air-conditioning system, pressurised and homologated cat. 4 |
High range characteristics.
Rich standard equipment… :
Reversibility of the driver's seat.
Suspended pedals.
Transmission with Easy Plus™ electro-hydraulic clutch and Power Clutch System and Smart Brake & Go functions.
Double steering cylinder in the central articulation.
Forced lubrication circuit for the bearings and PTO gears.
Hydraulically-operated brakes.
FULL LED lights.
…and a broad range of optional devices:
Pressurised and homologated cab cat. 4.
20" tyres with oversized reduction units.
Self Cleaning System™ for automatic radiator cleaning.
Rear lift with couplings category 2.
Electronically controlled joystick with CAN-bus technology.
Hydraulic circuit with increased capacity for lift and directional control valves.
Clean power.
The engine is 63 hp 4-cylinder Turbo Intercooler with particulate filter, that BCS Group worked on in collaboration with Kohler, their technological partner, for an advanced regeneration strategy guaranteeing maximum performance and reducing machine downtime to a minimum.
The rpm is electronically quickly and precisely regulated with the hand throttle knob on the dashboard. A button allows you to memorize the desired engine speed and, subsequently, to recall / exclude the set engine speed.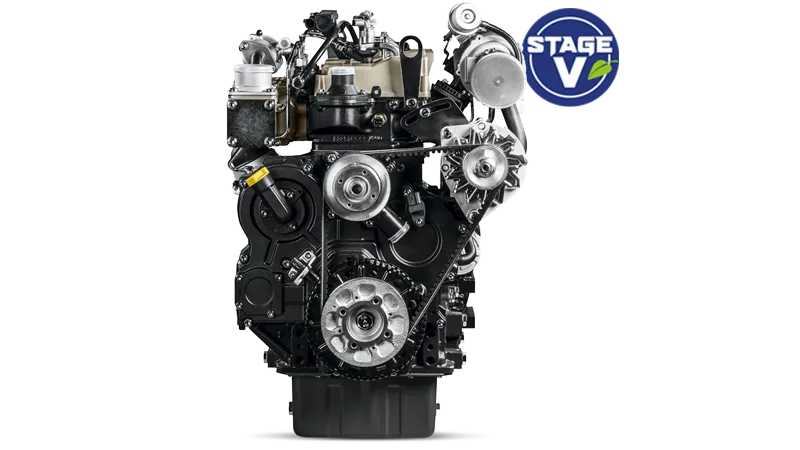 Lift and hydraulics.
The rear lift has 25% more lifting capacity: 1900 kg at the ball joints.
The category 2 with adjustable L-arms (optional) increases the possibilities of using increasingly more technological and complex attachments, suitable for the new Spirit 70 range.
Over-sized hydraulics makes it possible to set the tractor up with a higher number of directional control valves and standard flow rate of about 37 l/min, that switches to a full 48 l/min in the increased version.
The new electronically controlled joystick uses CAN-bus technology and integrates the PTO engagement button and potentiometer to adjust the hydraulic flow rate.
Habitability.
The reversible driver's seat, with platform suspended on silent block, successfully combines ergonomics and comfort in narrow spaces typical of hyper-specialised tractors.
Suspended pedals. Increasing the wheel base by 90 mm made it possible to adopt all suspended pedals leaving space on the platform. Therefore the ergonomics are identical for both front drive and reverse.
Increased seat travel.
New joystick armrest with reduced overall dimensions, longitudinal adjustment and storage compartment.
Total protection.
The new 4-upright cab (optional) is compact and features a conical profile to exit tight rows, also on side slopes and in vegetation-rich environments.
The LED work lights available up a total of 10, perfectly light up the work area.
Available in 2 versions:
"VISTA" equipped with ventilation and heating system. Soundproofed and homologated category 2.
"VISTA PRO" equipped with ventilation, heating and air-conditioning system. Soundproofed, pressurised and homologated category 4 thanks to active carbon filters (optional). LED work lights on the four sides of the cab.
Exclusive optional devices.
Self Cleaning System™
Self Cleaning System™
The SCS™ keeps the radiator and intake grilles of the engine bonnet constantly clean from dust and debris raised during work, avoiding dangerous overheating.
Find out more
Robust steel accessory that combines style and functionality by protecting the bonnet and radiator grille from impact.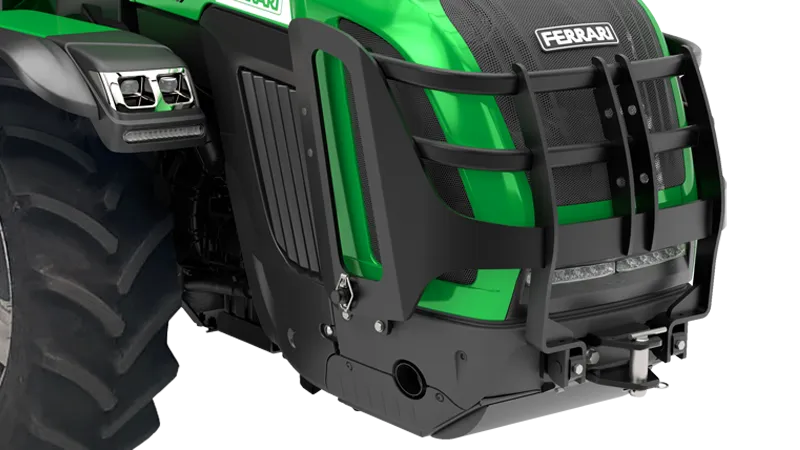 Front bumper
Ballast weighing a total of 110 kg, designed for mounting on both sides of the bonnet so as not to increase the size of the tractor.
They might also interest you: