Steering wheels isodiametric tractors
Thor 85 RS
75 hp isodiametric tractor. Compact dimensions, versatility and stability for use also in sloping areas.
Thor 85 RS is a versatile and compact isodiametric tractor designed to work in the greens maintenance sector, between vineyard and orchard rows both on flat and hilly grounds.
Designed with an essential basic set-up, the Thor 85 range is characterised by a wide choice of optional devices to meet every specific operating need.
The reversible driving position (optional) makes it possible to work in a practical and safe manner both with towed and front-mounted attachments.
Driving position
monodirectional / reversible
RS | Steering wheels
The OS-Frame and the power steering acting on the front wheels ensure stability and adherence in any operating condition, even on slopes.
The standard manoeuvring brakes further reduce the turning radius for more agility between the rows.
The Thor 85 range is also available in the AR version.
Technical Data
| | |
| --- | --- |
| | Kohler KDI 2504 TCR – Stage V |
| Power (kW/HP) | 55.4 / 75.3 |
| Nominal speed (rpm) | 2300 |
| Number of cylinders | 4 in-line / 16 valves |
| Displacement (cm3) | 2482 |
| Aspiration | Turbo / Intercooler |
| Maximum torque (Nm/rpm) | 300 / 1500 |
| | |
| --- | --- |
| Type | Isodiametric with footstep driving position |
| Chassis | Steering wheels |
| Driving position | Monodirectional or reversible |
| Transmission | 16 + 16 |
| Synchronized reverser | Yes |
| Electro-hydraulic power shuttle EasyDrive® | n/a |
| Drive | Permanent 4WD |
| Hydraulic system | Dual circuit with independent pumps |
| Heat exchanger | Yes |
| Joystick | n/a |
| Rear lifting capacity (kg) | 2300 (at the ball joint) |
| Front lift | Optional |
| PTO rotation speed (rpm) | 540 / 540E (optional: 540 / 1000) |
| PTO engagement control | Electro-hydraulic |
| Service brakes | Multidisc in oil bath, acting on rear wheels. Independent manoeuvring brakes acting on rear wheels |
| Cabin | n/a |
Winning features.
Kohler 4-cylinder engine with 75 hp and a high torque of 300 Nm.
Fuel tank capacity increased to 58L (+13%).
Reversible driver's seat (optional) for maximum versatility, comfort and precision in work.
New cluster tool with colour display and renewed graphics.
Excellent weight distribution on the four wheels and axles with planetary reduction units.
Compact design thanks to the 8 cm lower bonnet offering greater visibility.
LED work lights (optional)
Optional-rich range: draft control lift, top link and hydraulic tie rod, HDR hydraulic suspension, hydraulic circuit with increased flow rate for lift and directional control valves, front lift, telescopic steering wheel, Self Cleaning System™.
Clean power.
The Thor 85 range is equipped with a 75 hp 4-cylinder Turbo Intercooler engine with particulate filter, that BCS Group worked on in collaboration with Kohler, their technological partner, for an advanced regeneration strategy guaranteeing maximum performance and reducing machine downtime to a minimum.
The rpm is electronically controlled quickly and precisely through a console with these functions:
speed up/down,
set speed storage/recall,
electronic throttle off and switch to minimum speed.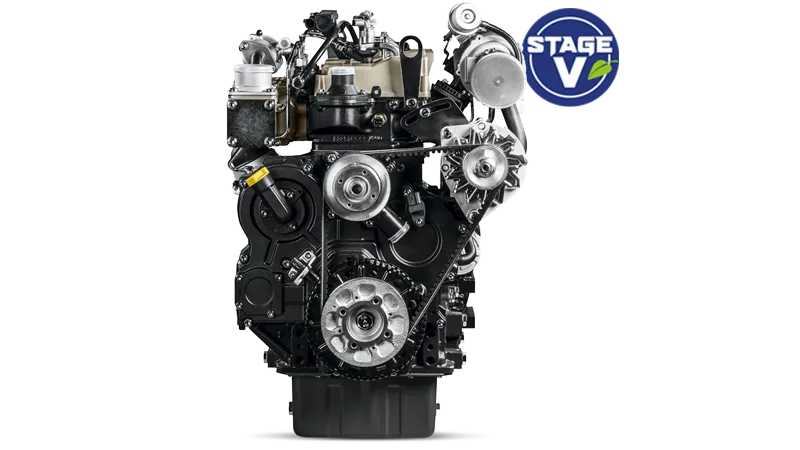 Reversibility.
Available as an option, the reversible driver's seat makes it possible to work professionally with the attachment positioned in front.
It takes just a few seconds to turn the operator's module, composed of seat, steering wheel and dashboard, by 180° so as to work with extreme precision, quickly, comfortably and safely.
The reversible driving position becomes an essential ally working in vineyards and orchards, in the handling of material with fork-lift, in the cutting of fodder, in the green maintenance and in the clearing of snow.
All at your fingertips.
The driver's seat of Thor 85 is set-up to-measure for the driver with all of the controls set up ergonomically and easy to use.
From the driver's seat there is a full unobstructed view of the tool as well as the machine: the visibility of the fore-carriage, the wheel track and the surrounding environment has been optimised by the compactness of the new engine bonnet, which is 8 cm lower than the previous model.
Cushioned seat, adjustable based on the operator's weight, height-adjustable steering wheel (optional) to configure the driver's seat for the maximum operational comfort.
A modern dashboard integrates the analogue instruments with a colour digital display, for total control of the tractor's status.
Exclusive optional devices.
Self Cleaning System™
Self Cleaning System™
The SCS™ keeps the radiator and intake grilles of the engine bonnet constantly clean from dust and debris raised during work, avoiding dangerous overheating.
Find out more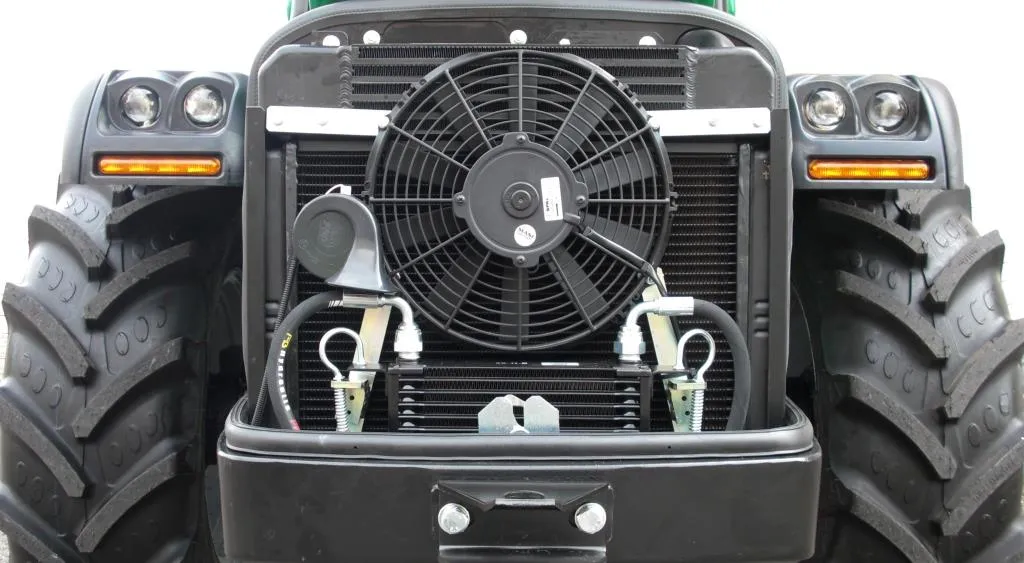 Front bumper
Robust steel accessory that combines style and functionality by protecting the bonnet and radiator grille from impact.
In the configuration with front lift, it integrates the linkage of third point tie rod.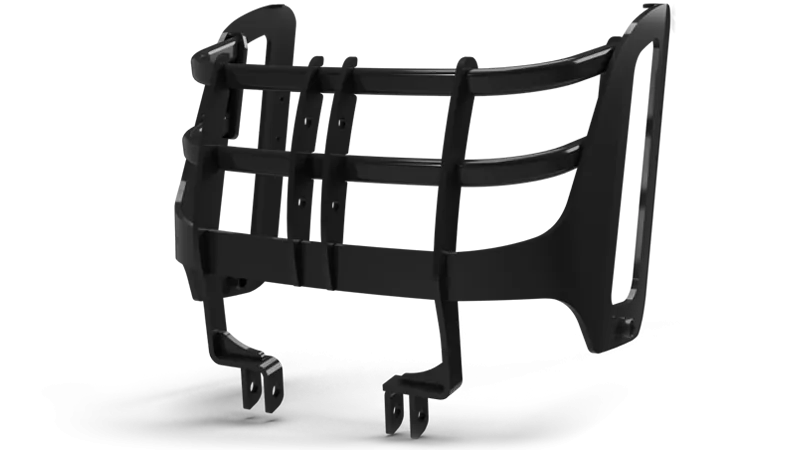 Front ballasts
Ballast weighing a total of 150 kg, designed for mounting on both sides of the bonnet so as not to increase the size of the tractor.
Not compatible with the front lift.
Front lift
Front lift equipped with front bumper and 4 hydraulic outlets, essential for combined equipment applications.
Lifting capacity: 800 kg
Not compatible with the front ballasts.
LED work lights
Two front LED lights, positioned under the bonnet grill, increase the lighted area favouring over-night work or in case of poor visibility.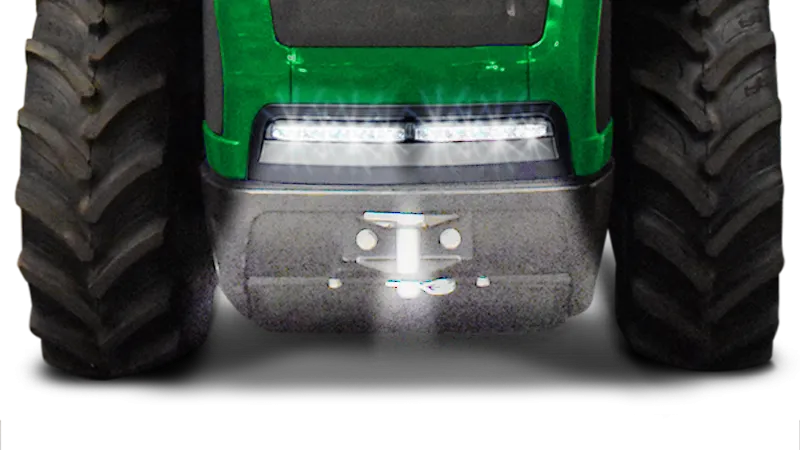 They might also interest you: