Fields of application
Mountain haymaking
Highest quality in mountain haymaking.
Irregularly sized and shaped plots of land, steep slopes and a great variety of situations. These are the working conditions which farmers in mountainous area have to deal with every day.
Choosing the right tractor is key to overcome the difficulties due to the features of the land.
The vehicles intended to operate on sloping terrain must have excellent stability and adherence to the ground and, especially in the case of farms dedicated to haymaking, it must ensure the best quality of work, so that the qualitative excellence of the fodder can make up for the characteristic lower productivity of these areas.
The reliability and efficiency of the tractor are just as important, in order to be able to operate within the short time windows required by haymaking, and work quickly and without any glitches.
Isodiametric tractors: the best allies.
Isodiametric tractors are the ideal ally in mountain haymaking.
For this application, FERRARI has developed a highly specialised range, which in addition to four equally sized wheels features reversible driving position and broad wheel track, further contributing to ensuring stability and safety on any type of land.
The low centre of gravity, wide platform and high degree of elasticity of the engine, make it possible to easily overcome the slope variations typical of the mountain landscape, and to work in utter safety. That is also thanks to the presence of the four-wheel drive, which in addition to optimising traction, also ensures efficient engine braking downhill.
FERRARI models intended for mountain haymaking are also fitted with the exclusive OS-Frame chassis which, thanks to the fore-carriage oscillation up to 15° compared to the rear-carriage, stabilises the tractor's attitude when working on uneven ground, thereby ensuring the four wheels are constantly adhering to the ground for maximum traction and highest quality of the work.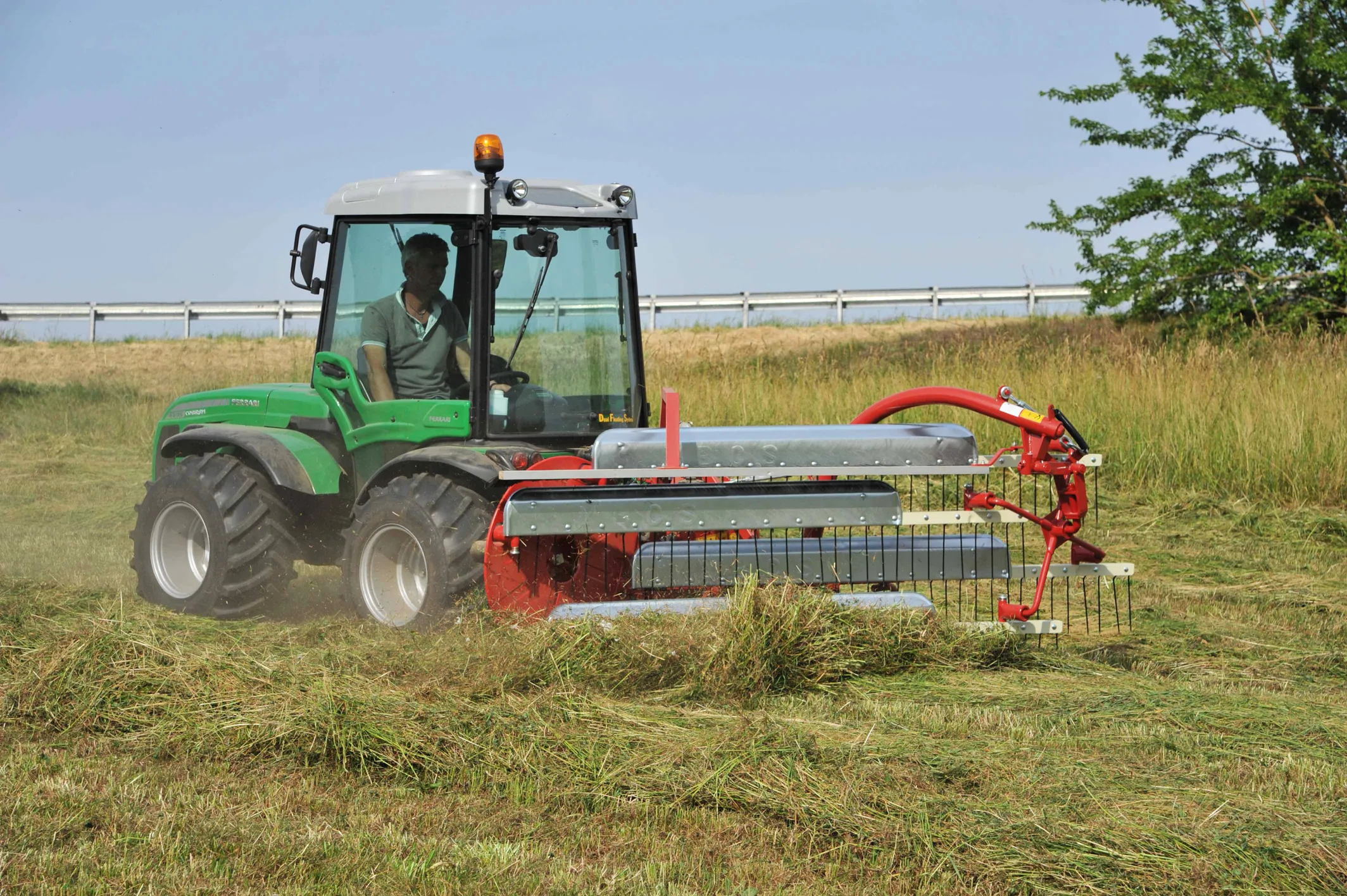 Optimal performance on any ground.
FERRARI tractors are clearly designed for haymaking operations, as evidenced by the whole slew of highly specialised technological solutions available.
When performing critical operations, such as finishing plot boundary areas, the best work quality is assured by the reversible driving position – the driver's seat rotates to assure the best visibility over the attachments and working area, under any condition.
The presence of the exclusive Dual Floating System® alongside the hydraulic suspension with nitrogen accumulator optimises the load on the ground of the attachments applied to the third point, making its "floating" easier and maintaining its proper distance from the surface of the ground.
The attachments can thus adapt to the undulations of the ground, following its hollows and bumps, without damaging its surface and without contaminating the hay. Tyres with low-compaction tread also prevent damage to the sward, for excellent-quality haymaking.
Find out more about Dual Floating System®
Specialized tractors for mountain haymaking