Fields of application
Orchard
Innovation and specialisation for the orchard.
Fruit growing is one of the most demanding specialised sectors of agriculture, in which production performance is strongly influenced by the degree of innovation and specialisation.
Varying width of the rows, often limited manoeuvring space at the row end, canopy with low branches are all characteristics that hinder the use of conventional tractors and call for vehicles with compact design, reduced height and high manoeuvrability.
Specialised orchard tractors combine all these features and can therefore be operated and manoeuvred between rows, even when the trees are planted close together and trained to have large crowns.
The large variety in spacing and training forms that characterises the various fruit species and various farming areas also means that these tractors must be highly flexible.
Specialisation also means the option of customising the tractor, choosing the most useful technologies for one's farm and plantation type, as well as the specific attachments intended for the various farming operations.
Innovative in everything.
FERRARI's isodiametric tractors are an ideal innovative solution for all farming operations in orchards in the plain and on hillsides.
The main features of the range include the low centre of gravity and the lower driving position, solutions that make for easier passes under the canopy in orchards of any fruit variety and training form, avoiding damage to the vegetation and fruit.
Compared to conventional orchard tractors, with power being equal, FERRARI's isodiametric tractors offer increased stability, particularly compact size both in terms of width and height, short wheelbase and low weight, which makes them useful in all specialised activities.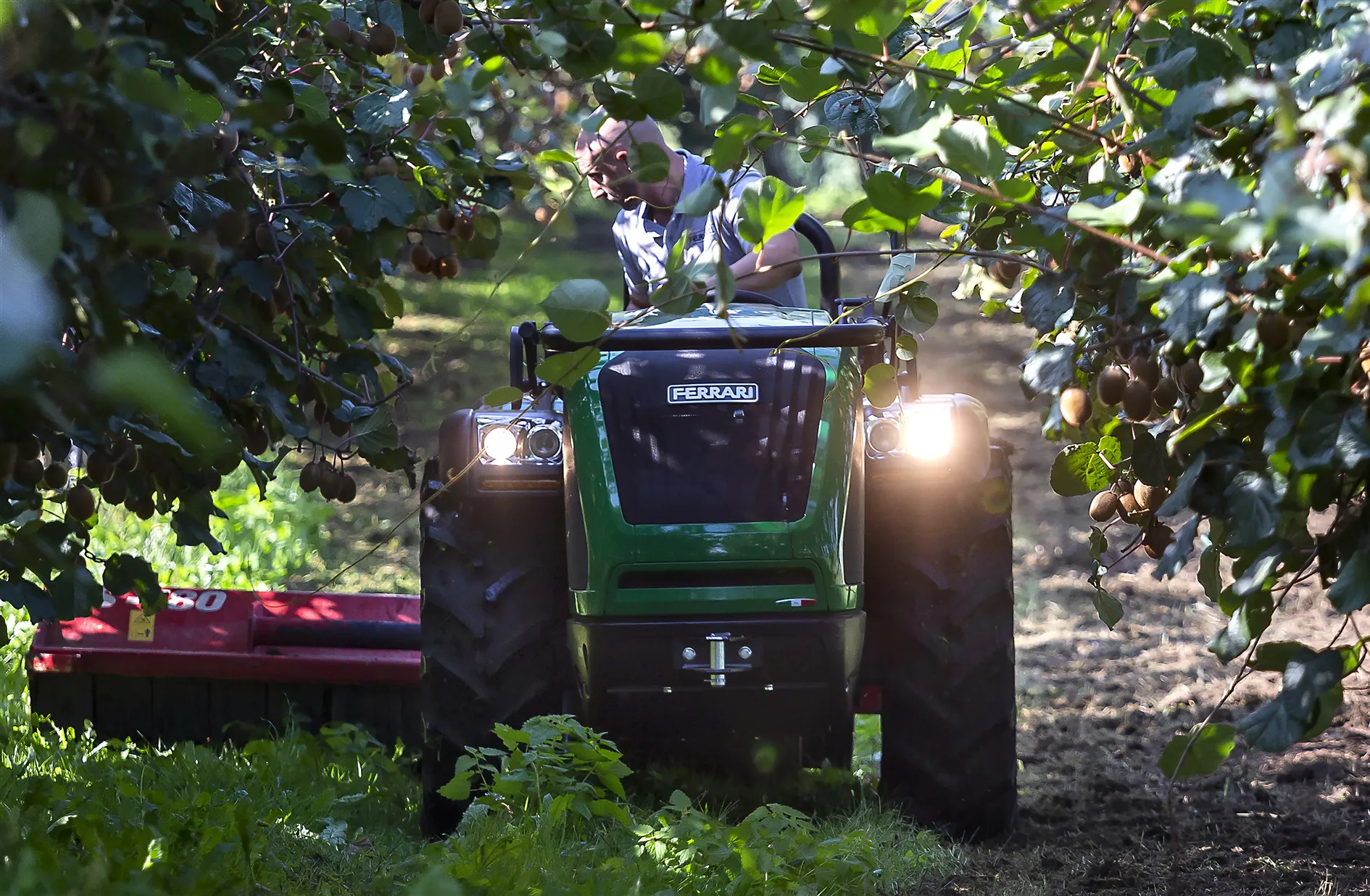 Precision and efficiency.
An important advantage is also the reversible driving position, an option which, through the 180-degree rotation of the driver's module, makes it possible to quickly perform jobs that require precision and moving of loads, as is the case with activities related to picking with fork-lift trucks.
In order to further simplify all manoeuvres, high-end models have as an optional feature the EasyDrive® electro-hydraulic reverser, which ensures the highest efficiency in repetitive jobs.
Find out more about the EasyDrive® electro-hydraulic reverser
Highest versatility.
FERRARI orchard tractors are also extremely versatile, thanks to the ability to customise each model in the range according to one's needs, choosing the type of steering, driving position, number of hydraulic directional control valves and much more.
The use of an electronically controlled joystick makes the attachments easy to use and provides full and precise control of all the tractor's hydraulics, adding operating comfort.
FERRARI's professionalism also means a focus on safety: the implementation of disc brakes in oil bath increases the safety of any activity in the orchard, as well as making for safer movement around the orchard or from one plot to another.
Specialized tractors for orchard